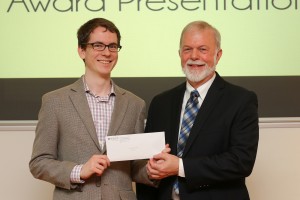 James Ross, a graduate student who completed his Master's thesis within the Environmental Information: Use and Influence research program, received the 2015 Research Prize awarded by the School of Information Management. This prize is awarded to a graduating student who has demonstrated significant success in research and was announced at the Spring Convocation on 26 May 2015. James was named the co-recipient of the Research Award, along with Alison Froese-Stoddard. James's Master of Library and Information Studies thesis project was completed in collaboration with the Canada Department of Fisheries and Oceans, one of EIUI's research partner organizations. His research focussed on the use of a major type of scientific publication, namely, state of the environment reports. A brief account of the results of this research about the State of the Scotian Shelf Report is given in the recent blog post entitled "What Do Users Want from a State of the Environment Report? An EIUI Study of the State of the Scotian Shelf Report.
The State of the Scotian Shelf Report itself can be viewed at this link.
During the Awards ceremony, Bertrum MacDonald, Professor of Information Management, presented the award to James. Congratulations James!
Photo credit: Nick Pearce. Pictured l to r: James Ross and Bertrum MacDonald.