The earth's terrestrial and aquatic ecosystems face many serious problems requiring timely information-based policies, decisions and, above all, solutions. Our research addresses the use and influence of marine environmental and fisheries information produced by governmental and non-governmental organizations, with a focus on their grey literature publications. Our research is especially probing the complex science-policy interface(s) so as to understand and maximize the role (use and influence) of such information in policy and decision-making processes.
More information on our specific interests and results to date can be found by clicking the link below or by reading further here.
Click here to find out more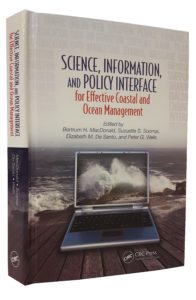 EIUI Book about the Science-Policy Interface Now Available Open Access!
The EIUI research team is very pleased to announce that Science, Information, and Policy Interface for Effective Coastal and Ocean Management is now available as an open access book from CRC Press (a division of Taylor & Francis). For more information, please see an overview of the book and a report of the book launch.