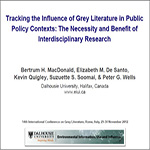 The 14th International Conference on Grey Literature, hosted by the Italian National Research Council, brought over 100 researchers and librarians from eighteen countries to Rome on 29-30 November 2012. "Tracking innovation through grey literature" served as the theme of the conference. The opening keynote addresses by Dr. Carlos Morais-Pires of the European Commission (Belgium) and Dr. Jan Brase of the Technische Informationsbibliothek (Germany) emphasized major transformations currently occurring in scholarly publishing and communication.  Dr. Morais-Pires outlined new research funding programmes being rolled out by the European Commission relating to management of "big data" (large volumes of scientific data) and Dr. Brase described the challenge of developing solutions to make various kinds of scientific digital data and information "available, citable, sharable, linkable, and usable by the use of persistent identifiers."
The EIUI research team, represented by Bertrum MacDonald and Suzuette Soomai, presented the paper, "Tracking the influence of grey literature in public policy contexts: The necessity and benefits of interdisciplinary research." This paper, which will be published in the forthcoming conference proceedings, focussed on the substantial benefits of applying an interdisciplinary perspective in the study of the role of scientific information at the science-policy interface in marine environmental decision-making.
The breadth of studies of grey literature was well illustrated by the papers and posters presented at the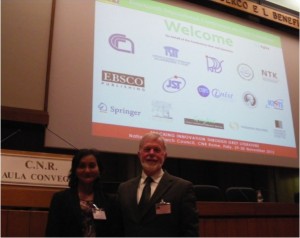 conference.  Subjects included ethnographic investigation of grey literature creation and use in a molecular biology lab ("Grey literature in the digital culture and practices of the new global scholar: The case of molecular biology" by Chérifa Boukacem-Zeghmouri, Université Claude Bernard Lyon 1, France), tracking innovation through grey literature ("Grey in the innovation process" by Keith Jeffrey, STFC-Rutherford Appleton Laboratory, UK, and Anne Asserson, University of Bergen, Norway), a Food and Agriculture Organization project to digitize and preserve fisheries grey literature produced in developing countries ("What goes up must come down: Publications from developing countries in the Aquatic Commons" by Maria Kalentsits and Armand Gribling, (FAO, Rome), and creation and management of an active blog to promote awareness of health care information ("Creating and assessing a subject-based blog for current awareness within a cancer care environment" by Yongtao Lin and Marcus Vaska, University of Calgary, Canada). Other papers and posters gave accounts of new data models, the status of development projects, and describe new initiatives to make grey literature and research objects more visible and more accessible. (Photograph: Suzuette Soomai and Bertrum MacDonald).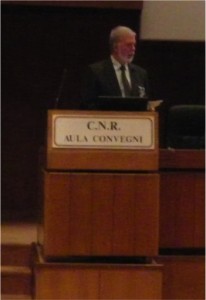 Further details about the Rome conference are available at www.textrelease.com  The next international grey literature conference, on the theme "The Grey Audit: A Field Assessment of Grey Literature," will be hosted by the Slovak Centre of Scientific and Technical Information in Bratislava, Slovak Republic, on 2-3 December 2013.