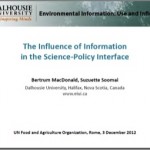 The Food and Agriculture Organization of the United Nations (FAO) recently became a partner to the EIUI research initiative in a three-year research project supported by funding from the Social Sciences and Humanities Research Council of Canada. Seven other governmental, intergovernmental, and non-governmental organizations are also partners in this project, which is studying the communication and use of environmental information in policy development. At the invitation of Dr. Richard Grainger, Chief of Statistics and Information at FAO, Bertrum MacDonald and Suzuette Soomai presented a seminar on "The Influence of Information in the Science-Policy Interface" at the FAO Headquarters in Rome on 3 December 2012. Dr. Lahsen Ababouch, Director of the Fisheries and Aquaculture Policy and Economics Division, introduced the session.
Dr. MacDonald and Ms. Soomai described current understanding of information activities in the science policy interface, and outlined key insights from recent case studies, which included research on the use of fisheries information produced under a FAO-WECAFC Working Group on Shrimp and Groundfish in the Caribbean (see, for example, Soomai, Wells, & MacDonald, 2011). These studies examined the flow of information, including enablers and barriers to communication, from production to use in policy-making contexts as well as consideration of methods to measure awareness and use of marine environmental information.
MacDonald and Soomai outlined a general model about the generation, transmission, and use of environmental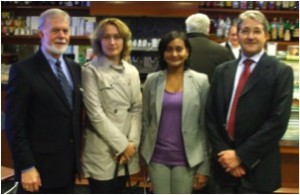 information to illustrate the complexities of information pathways at the science-policy interface (based on Ascher, Steelman, & Healy, 2010). The model became a focal point of discussion among the seminar participations, particularly with regard to information and knowledge sources and variety of stakeholders to include in future studies. Due to the complexity of research on this topic, an interdisciplinary perspective was emphasized, as is pursued in the EIUI initiative.
In addition to research conducted with staff of the FAO Fisheries and Aquaculture Department, the partnership project aims to identify and apply best practices for effective communication of fisheries scientific research within science and policy practitioner and academic communities.
Photograph (L to R): Bertrum MacDonald, Maria Kalentsits (FAO), Suzuette Soomai, and Richard Grainger (FAO).
References:
Ascher, W., Steelman, T., & Healy, R. (2010). Knowledge and environmental policy: Reimagining the boundaries of science and politics. Cambridge, MA: MIT Press.
Soomai, S. S., Wells, P. G., & MacDonald, B. H. (2011). Multi-stakeholder perspectives on the use and influence of "grey" scientific information in fisheries management. Marine Policy, 35(1), 50-62.