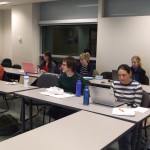 The Environmental Information: Use and Influence initiative (EIUI) has launched a new graduate course on the "Role of Information in Public Policy and Decision Making" to prepare students for public management careers and to capitalize on the interdisciplinary strengths of the EIUI research team.
This innovative, new course offers graduate students the opportunity to examine how research-based information may be used to inform policy making at local, national, and international levels. While modern policy making prescribes the use of the best available information, evidence-informed policy making is relatively new and also challenging to pursue. Large and growing quantities of information, the complexity of information pathways, a variety of organizational cultures and commitment to research-based decision making, competing perspectives on many issues, and the contested political areas of policy development all contribute to the challenge.
Through this course, graduate students in Environmental Management, Information Management, and Public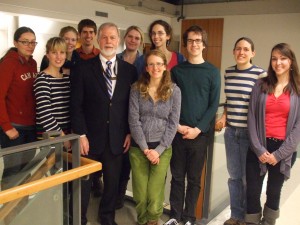 Administration will study the roles of information arising from various research domains used in policy decisions, and will give particular attention to the interface between research and policy decisions. The course draws on case studies to illustrate enablers and barriers affecting the use and influence of information. In addition to cases and seminars, students will examine the context of specific policies to learn how research contributed to the policies and how the policies themselves were communicated to stakeholder groups and the public more generally. Students will prepare sample briefing notes or letters to the news media explaining scientific issues, and they will write papers on topics such as the role of non-governmental organizations in promoting awareness of research-based information, the role of boundary organizations in facilitating the flow of research-based information, why some barriers to information flow are prominent in particular decision making cases, or about the information behaviour of decision-makers and politicians.
This new course is offered through the Dalhousie University School of Information Management. Further details are included in the syllabus available at this link.