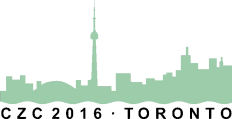 The 2016 Coastal Zone Canada conference, organized by the Coastal Zone Canada Association, was held on 12-16 June 2016 at the University of Toronto's Chestnut Convention Centre in Toronto. This biennial conference provides a forum for the exchange of ideas and information related to coastal zone management in Canada and globally. Representatives from universities and colleges, governmental organizations across North America and the Caribbean, environmental non-governmental organizations, and private sector firms providing global services in coastal zones attended the 2016 conference. The keynote speeches, concurrent sessions, panel discussions, and workshops addressed the conference theme Coastal Futures; Resilience through Collaboration.
Practitioners and researchers discussed the increasing use of natural and nature-based features for habitat regeneration and for strengthening coastal resilience against the impacts of climate change. Nature-based shorelines, enhanced resilience of coastal cities, and large-scale coastal restoration initiatives are often facilitated by cooperative alliances of federal, provincial, and local agencies. The creation of communities of practice to facilitate resilience was stressed. Such communities can involve a network of networks or a range of information tools and products, e.g., a knowledge centre, list server, website, or fact sheets.
Dr. Suzuette Soomai and Lee Wilson represented EIUI and presented the results of their recent research at the conference. Dr. Soomai described her doctoral research on information pathways in three governmental organizations in her paper "Policy and Governance for Fisheries Management: The Vital Role of Scientific Information at the Science-Policy Interface." In his presentation, "Bridging the Gap: The Role of Bridger Organizations in Complex, Multi-Sectoral Communication Networks for Ocean and Coastal Management," Lee Wilson discussed the results of his Master's thesis on tidal energy communication networks operating in the Bay of Fundy region of Nova Scotia.
EIUI has participated in the Coastal Zone Canada conferences since 2010 as they provide a very good forum to raise awareness of the essential, but often not understood, role that information plays in policy- and decision-making. The new book – Science, Information, and Policy Interface for Effective Coastal and Ocean Management – edited by members of the EIUI research team and published by CRC Press in May 2016 had its genesis at the 2014 conference. The volume includes chapters initially presented as papers in a special session hosted by EIUI in 2014, Does Information Matter? A Critical Question for the Future of Coastal Zone Management, by several scholars who addressed issues related to information use in policy processes. This new book was launched at Dalhousie University on 6 June 2016; details of this event are available in this blog.