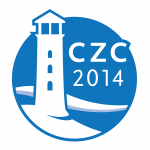 Coastal Zone Canada is an international conference that attracts a variety of scientists, researchers, stakeholders, and professionals who share a common interest: the health and wellbeing of the world's coastal zones. The 2014 conference held in Halifax, Nova Scotia included keynote speeches, concurrent sessions, and panel discussions that discussed challenges faced by coastal zones.
The opening keynote speaker, Timothy Kearns, talked about a problem that compounds the strictly environmental challenges confronting coastal zone management. He dubbed this problem, "The Pandemic of Databesity." Simply put, databesity refers to the fact that humans are generating and collecting data at an unprecedented rate, but are unable to put all of the data to good use. In essence, we are drowning in data.
At the core of databesity is the concept of Big Data, which according to Kearn, is comprised of 4 V's: volume, velocity, variety, veracity. Volume means the large quantity of data being generated, velocity refers to the rate at which new data is formed and collected, variety indicates the wide array of different types of data being generated, and veracity points to the overarching issue of data credibility. Together, these factors make Big Data a significant management challenge for scientists and policymakers.
While the big problems of Big Data resist simple solutions, Kearns discussed several ways in which it might be addressed. First, "unsiloing" data by moving it from disconnected containers (e.g., personal hard drives, USB memory drives, CD-ROMs, etc.) and onto the cloud would facilitate data sharing among scientists and eliminate unnecessary data duplication. His second recommendation regarding the rise of summary engines combines the technology trends of mobile computing and Big Data analytics. Summary engines are a form of software capable of parsing massive data sets simply, so as to be accessible to non-experts. The addition of a strong social component to summary engines will allow such programs to function in a similar manner as popular social media platforms.
By moving Big Data out of individual servers into programs designed for non-experts, scientists and policy makers can hopefully begin to take advantage of a larger portion of the 2.5 Exabytes of data generated daily in our increasingly data-driven world. Discussion of the idea of learning to swim in a sea of data was continued in the EIUI's own special session entitled: "Does Information Matter?" which is discussed in greater detail in another post on this website. Speakers in this session noted that to more effectively deal with ocean problems we need to make better use of the large and growing quantity of available information about marine subjects. In particular, we need to improve communication among scientists, resource managers, industry, politicians, and the public.
In addition to drowning in an ocean of data, several other themes including, climate change, coastal mapping, marine protected areas, and pollution, dominated the concurrent sessions presented by nearly 150 speakers over the course of the four day conference, which was attended by over 600 participants.
Although it was important to articulate the critical necessity of taking action to deal with climate change, the sessions tended to not focus on the consequences of environmental inaction. Rather, many sessions discussed possible solutions and demonstrated the advances made in science and technology to mitigate impact of climate change on coastal zones. Speakers came from a variety of backgrounds including governmental, non-governmental, academic, and industry representatives. This diversity highlighted both the interdisciplinary nature of the conference and the importance of communication among different stakeholders in the management of coastal zones.
At the closing session, youth from Nova Scotia were invited to speak about their experiences with the oceans. One young person spoke out about how her generation, unlike previous generations, has never experienced an ocean that is teeming with life. Such personal accounts starkly emphasized the dire necessity for the development and implementation of a comprehensive coastal zone and oceans management framework.
In the closing session, former Prime Minister of Canada, the Right Honorable Paul Martin urged scientists to band together and speak about the reduced basic and discovery scientific research funding in Canada. Martin's closing keynote address and the Global Ocean Commission's report   are discussed in greater detail in another post on this website.
Overall, the Coastal Zone Canada conference was an informative, well-managed event that did more than just educate people on the challenges being faced in the coastal zones. It also brought a wide variety of stakeholders together for discussion and debate about important contemporary issues. Interdisciplinary conferences such as Coastal Zone Canada 2014 are integral to the creation of novel ideas and solutions for current and future coastal zone challenges. The next conference will be held in Toronto, Ontario in 2016.
Authors: Shelby Mclean and Lee Wilson