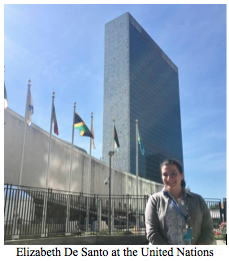 EIUI team member Elizabeth De Santo is participating in the UN Convention on the Law of the Sea (UNCLOS) Intergovernmental Conference on a new treaty to conserve and sustainably use biodiversity beyond national jurisdiction (BBNJ), being held at the UN Headquarters, New York, 4-17 September 2017.
Elizabeth (Franklin & Marshall College, Pennsylvania) is part of an observer delegation representing the International Studies Association, along with Liz Nyman (Texas A&M University), Beth Mendenhall (University of Rhode Island), and Rachel Tiller (SINTEF Ocean, Norway). This small team of researchers is tracking the negotiations over the next two years relating to (1) capacity-building and transfer of marine technology, (2) area-based management tools (ABMTs) including marine protected areas (MPAs), (3) marine genetic resources, (4) environmental impact assessments, and (5) cross-cutting issues.
As an MPA specialist, Elizabeth is focusing on the portion aimed at designing a new regime for designating ABMTs including MPAs on the high seas. Her latest journal article, on implementation challenges for ABMTs was published open access in Marine Policy to coincide with the UN meeting. Based on lessons learned from previous experiences with high seas closures under the OSPAR (North East Atlantic) and Commission for Antarctic Marine Living Resources (CCAMLR) (Antarctic) Conventions, Elizabeth argues for ABMTs that include full protection through the water column, clearer pathways for science advice in the designation process, ensuring management plans are part of the discussion as early as possible, and for better stakeholder participation and transparency in high seas management.
Reference
De Santo, E. M. (2018). Implementation challenges of area-based management tools (ABMTs) for biodiversity beyond national jurisdiction (BBNJ). Marine Policy, 97, 34-43. https://doi.org/10.1016/j.marpol.2018.08.034
Abstract: Area-based management tools (ABMTs), including marine protected areas (MPAs) are widely recognized as a key mechanism for conserving and restoring biodiversity. The developing international legally-binding instrument (ILBI) on biodiversity beyond national jurisdiction (BBNJ) is considering a range of approaches to ABMTs. While the process is still in early stages, this paper looks ahead to anticipate implementation challenges for ABMTs, given previous experiences with regional fisheries management organizations (RFMOs) and high seas MPAs. Drawing on the implementation of MPAs under the OSPAR Convention and the Convention on the Conservation of Antarctic Living Marine Resources (CCAMLR), key suggestions revolve around: (1) improving the evidence basis for protecting BBNJ, (2) designing effective compliance and enforcement mechanisms, and (3) engaging adequately with relevant stakeholders. In addition to the case studies, which are primarily marine pollution and fishing-oriented, considerations related to mitigating the effects of deep sea mining and the harvesting of marine genetic resources are also touched upon.