A new Environmental Information: Use and Influence study suggests that social values tied to the ocean are under-represented in the valuation of marine ecosystems, and proposes a public perceptions frame work to gauge place-based attachments in coastal planning and policy decision processes. 
Simon Ryder-Burbidge, an EIUI team member and a recent graduate of the Master of Marine Management program at Dalhousie, led an EIUI project in collaboration with the Woods Hole Oceanographic Institution (WHOI) to examine how communities perceive connection and relationship with the ocean, for use in coastal planning and policy contexts. Through a survey of the community of Falmouth, Massachusetts as a pilot location, the research uncovered several strong sensory and place-based attachments to the marine environment and a plethora of social values tied to the coast. Simon's final report included recommendations on how public perceptions data can be used by science communicators and coastal planners, and identifies relational values as a means to frame connections described by the Falmouth community in broader public discourse. His report, titled "'I thought the horseshoe crabs were part of my family': Investigating ocean connectivity in Falmouth, Massachusetts," is available at this link. Below, Simon describes his experience and lessons learned with the Dalhousie Marine Affairs Program, WHOI, and the EIUI team over the course of the project's development.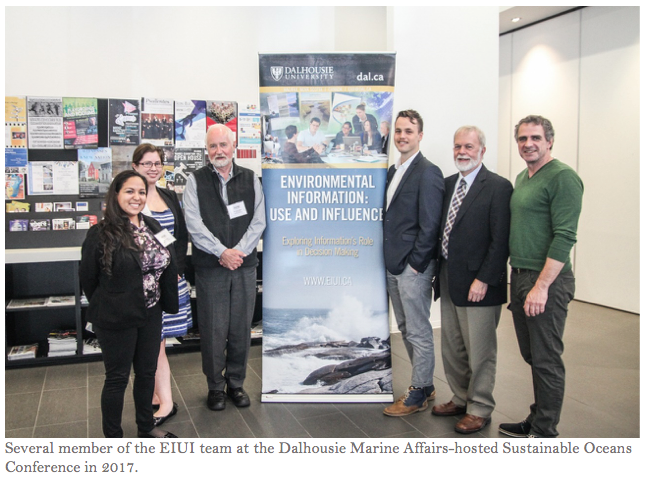 ***
For the past two years now, much of my thinking has been directed towards the relationship between people and the ocean. In September of 2016, I entered the Master of Marine Management program at Dalhousie University. In the months that followed, my classmates and I toiled away at the whiteboard and in the books, ogling over everything seaborne and salty. We listened, we researched, we shared ideas, and slowly we morphed into true marine governance masters.
But, what I came to recognize in each facilitated classroom discussion and each boozy, heart-to-heart-save-the-world exchange at the pub, was a common thread connecting a lot of conversations central to the marine management program: ocean ecosystems are undergoing major change, and life in the sea is suffering the consequences.
Of course, human beings are a primary agent responsible for the facilitation of shifting conditions in the ocean, from the carbon we release into the atmosphere, to the waste we let fall into the sea – we've left our mark at every corner of the aquatic Earth. Overfishing, seabed drilling, acidification, ocean noise, biodiversity loss, chemical pollution, and wetland habitat destruction – the impacts go on. As I began to learn more about the nature of relationship between people and the sea, it became clear that marine management would never be about managing anything truly "marine" – the ocean is quite capable of governing itself. Simply put, marine management today fundamentally asks us to manage human behaviour.
When this truth started to sink in, it felt initially uncomfortable. How could a university possibly ask a bunch of twenty-somethings to "manage" the behaviour of others interacting with the ocean? Who am I, or who is anyone else, for that matter, to tell a fisherman that he shouldn't fish, even if his stock of choice is teetering on the brink of collapse, for instance?
Not to mention, I certainly wouldn't want to be managed, I thought.
I was determined to seek a balance in this regard. How could we – my classmates and I – try to improve this collective relationship between people and oceans, without preaching or policing the behaviour of coastal citizens who know their marine ecosystems better than anyone, and without infringing on the freedoms of those who rely on the ocean economy for their livelihoods?
At their core, these questions are fundamental. As time has proven, definitive answers remain elusive. But, as I continued to lose myself in the complexity of the problems of the ocean, I felt more and more strongly that the clearest path towards balancing individual and developmental freedom with ecological conservation was the long, beleaguered path towards a localized stewardship. There is no doubt that environmental regulations and protected areas can act as effective, government-mandated stopgaps until the extractive economies of the world can start to shift away from the industrial paradigm that led us to where we are today. In the long-term, however, perhaps it's a by-communities-for-communities approach to conservation and stewardship that holds the key to sustainability – each township, each municipality, each citizen caring for the marine spaces nearby and ensuring individual habits are reflective of the treatment necessary to keep our oceans healthy.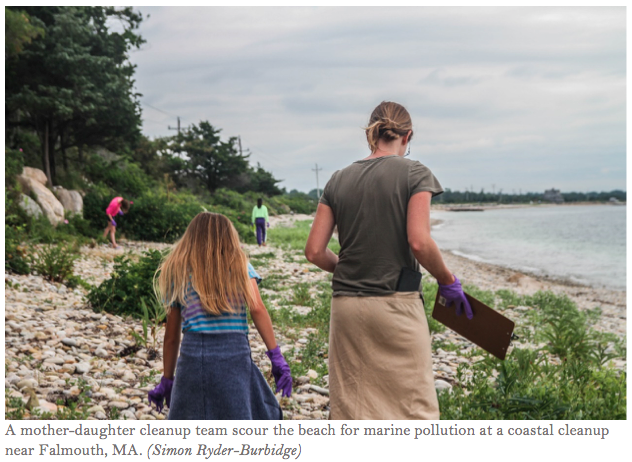 Late in 2016, it was this conviction that led me to the development of my graduate research project at Dalhousie. What was it that enabled coastal citizens to care about stewardship in the first place, and how could traditionally centralized ocean management policies be adapted to empower communities in the stewardship of oceans? With an opportunity to pursue a collaborative internship hosted between EIUI and the Woods Hole Oceanographic Institution in Massachusetts, I began to try to answer these questions.
Before understanding how coastal communities become stewarding communities, it seemed imperative to know how the public relates to the ocean at the individual scale – what does the average coastal citizen know, and what does the average coastal citizen care about, when it comes to the ocean? How do communities perceive connections to the sea? It was my hope that by asking these questions, I could start to understand how to address the community-level gaps in ocean-related knowledge, subsequently helping to enable sustainable behavioural practices.
Through a lot of trial and error, and with a lot of help from my EIUI colleagues, I determined that the best way to gather this data was to survey a particular community as an initial study. If the concept could work in one community, maybe it could be adapted elsewhere too. And with that, we began building the questionnaire. The survey would guage ocean-related perceptions in the town of Falmouth, Massachusetts (where my internship was hosted at the WHOI Marine Policy Centre), to see how Falmouth citizens "connected" with the coastal zone around them.
This bi-national social science study required ethical approval in both Canada and the United States, eventually obtained from Dalhousie University and Massachusetts Institute of Technology review boards. Once we received the green light, it was time to start distributing the survey amongst the Falmouth community. My colleagues and I hosted the invitation to the online survey at the EIUI website (the survey was conducted with Opinio software available at Dalhousie University), and I joined several local discussion groups online, sending periodic invitations to Falmouth residents on each of the three major social media platforms (Facebook, Instagram, and Twitter). I asked participating residents to share the invitation with friends and family, and then I promptly hit the streets. As an amateur photographer, I made several prints of the greater Falmouth region that I had collected on weekend excursions around Cape Cod. I scribbled a handwritten URL link to the survey on the back of the photographs, and began handing them out at summertime events and public institutions all around Falmouth – rejection became a regular part of life ("not right now," "not interested," "sounds neat, son, but no thanks"). Occasionally, I was even received negatively online – in one of the more exciting episodes, one gentleman referred to the language I penned for a survey invitation on Facebook as "flowery academic bullshit." That felt like a truly ground-breaking moment. The resounding response to the study, however, was very positive. By the end of the six-week data collection process, it was clear that there couldn't be a better way to get to know the town and meet others interested in important discussions about marine conservation.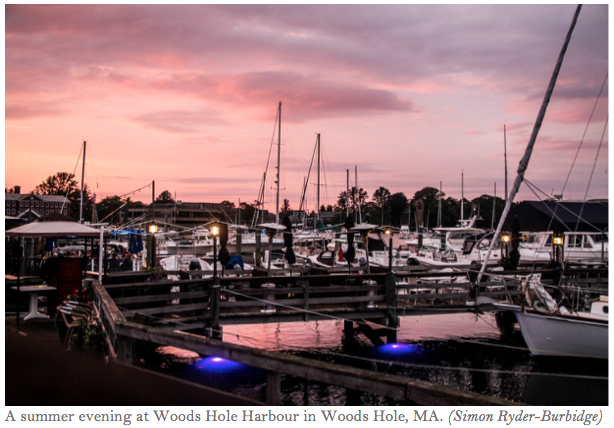 Once the survey process had finally wrapped up in late August of 2017, it was time to start analysis. I had more than 150 completed surveys to work with, and another 75 partial completions. I began inputting the answers to each question into similar theme categories, again with the help of expert colleagues who had run the coding gauntlet many times before. Some questions were easy to analyze (multiple choice, rating and ranking) and required little effort. Others, especially the open-ended questions, took a lot of careful thought – organizing and re-organizing when it became clear certain categories didn't fit with the others, or when too much latent subjectivity was allowed to seep in. My supervisor, EIUI's Dr. Bertrum MacDonald, encouraged constant checks and re-checks, and touted the importance of a commitment to scientific rigour even in the face of creative and idiosyncratic – or synonymously amorphous and confusing – responses by survey participants. While coding was no doubt challenging by times, anecdotal information slowly but surely built into a portrait of knowledge and experiences shared by the Falmouth community. It was in this process that the true nature of the data began to reveal itself.
As the days grew shorter and leaves began to turn in late October, analysis was largely complete and it was time to write. Suddenly every second was precious. Making progress each day was critical in the slow march towards the conclusion of the final semester of our marine management degree period at Dalhousie. Some days were difficult – the task seemed too big and overwhelming – and on other days the words flew onto the page at a mile-a-minute. On the difficult days, under-slept, over-caffeinated and generally discouraged, I was lucky that I could rely on Dr. MacDonald for a boost or an encouraging word. Early November – the clock is still ticking – I could tell my classmates were on edge. Usually chipper personalities solemnly wandered into the classroom with baggy eyes and grim demeanours. We did what we could to keep moral high, finding solace in the fact that we were all "in the shits" together.
The calendar turned to December. Classes came to a close, and it was only a week now until draft reports and presentations were due. Regularly falling asleep at the computer and opening it up again before getting out of bed by now, I retreated into the long nights and dark places where people go to write, and to write fast. With many edits courtesy of my research team, slowly and painfully a draft came together.
Eventually the day came to present research to the class and other interested members of the ocean governance community. My peers all dressed in their presentation-best, and the tired looks of the weeks before turned to passion as, for each of us, sixteen months of study came to fruition in 15 minutes. When it came to my turn, I was surprised how easily the words came. Although in hindsight, I had been rehearsing almost everyday, consciously or otherwise. I told the audience all I had come to know about Falmouth. I told them how homeowners understood flood risk; how important access to the coast was for community members; how people thought about the ocean and what it meant to those who had been near it all their lives. I described the language people used in reference to the ocean: peace, family, home, love, and so on. I told them about how one survey respondent thought, as a child, that the horseshoe crabs and the sea lettuce along the Cape Cod coastline were a part of the family, and about a spiritual connection between people and the creatures of the seas. I tried to re-create the picture of relationship that the community had described to me. I concluded with what I felt was the strongest message of the findings: in ocean policy, we are deeply undervaluing the importance of marine ecosystems to the social and emotional wellbeing of the people who live near them. In our management and planning processes, we fail to account adequately for the fact that the coastal zone – from the sights, the smells, and the sounds to the inhabiting organisms – are fundamental to the identity of coastal citizens. In other words, for Falmouth residents, when the coastal and marine life of home is degraded, so is a piece of the soul.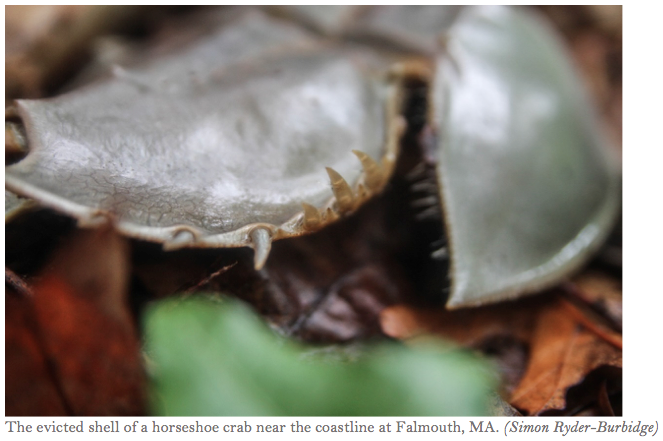 It's this message that stays with me today. Soon the presentations came to a close, and by February my classmates and I had all published final versions of the reports we had written. We began to move on from school, into new jobs and different lives. But, for me, and for many of us, the ideas encountered in the classroom and in the field continue to hold. I know that the status of life in the ocean will face challenges for as long as I live. However, I find comfort in the understanding that each of us who knows the ocean shares a special bond with it. For human beings in coastal places, the love of family and friends and all the other elements of a life-well-lived are tethered to the water. And as marine ecosystems change, we are changed too. I remain hopeful that one day we will come to understand the ocean and what it gives to us in a more holistic way – hopeful, in the spirit of reconciliation, that one day we can begin to give back.
Until that day, I continue to reflect on what I learned during my time with the Dalhousie Marine Affairs Program; grateful to my classmates, my EIUI colleagues, my friends and my family for guiding the way through the challenges of grad school. I'm now practically applying my skillset in outreach, engagement, and research on behalf of an environmental policy and advocacy organization, where my job is to help advance marine conservation in Canada. I hope that in this work and beyond, that I can carry with me a learned appreciation for the ways in which we are all connected to all the life of the ocean. I know that in time we will come to live reciprocally with these non-human organisms, sharing space and respect. I believe, when that time comes, we can also be truly peace with ourselves.

Reference
Ryder-Burbidge, S. (2018). "I thought the horseshoe crabs were part of my family": Investigating ocean connectivity in Falmouth, Massachusetts. (Unpublished Master's Graduate Report). Halifax: Dalhousie University.
Author: Simon Ryder-Burbidge