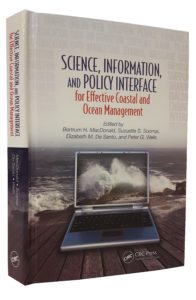 "The Science-Policy Interface in Coastal and Ocean Management" is a series of posts highlighting the chapters in the new book: Science, Information, and Policy Interface for Effective Coastal and Ocean Management, edited by Bertrum H. MacDonald, Suzuette S. Soomai, Elizabeth M. De Santo, and Peter G. Wells, published by CRC Press (Taylor & Francis).
The dynamic interplay between scientific and other forms of knowledge in policy, planning, and practice that were explored in Science, Information, and Policy Interface for Effective Coastal and Ocean Management were on full display at Australia's Coast to Coast conference.
The conference took place in Melbourne (29 August – 1 September 2016), which according to various rankings is "the world's most liveable city." Over 200 delegates gathered at Melbourne's iconic MCG (Melbourne Cricket Ground) to meet and greet, exchange ideas and knowledge, and plan new projects and initiatives.
The high standing of the conference in the hearts and minds of Victorians, and all Australians, was evidenced in the opening remarks by State Minister for Energy, Environment, and Climate Change, the Hon. Lily D'Ambrosio, who provided a warm welcome to delegates. Her remarks were followed by Dr. Tundi Agardy's keynote address "Is Marine Spatial Planning Killing the Golden Goose? Reflections on Achieving Lasting Integrated Ocean Management."
Many aspects of the conference format provided opportunities for exploring the interplay and exchange of different forms of knowledge including:
The participation of internationally recognised experts and thought leaders;
Wide ranging workshops for practitioners;
Field trips to significant sites along Victoria's coast;
Social activities including a welcome reception and conference dinner; and a
One day Executive forum that enabled senior executives to engage with the latest thinking on coastal matters.
Of particular interest, was the conference dinner, at which delegates were treated to the artistic elements of coastal management by Mick Sowry (the Writer and Director of Musica Surfica and The Reef, in which he collaborated with Richard Tognetti from the Australian Chamber Orchestra). Sowry used a range of evocative visuals and film excerpts to explore peoples' connections with, and custodianship of, the coast and marine environments. Over dinner, delegates were entertained by the aptly named "Pearly Shells," arguably Melbourne's premier jazz/ swing/ RnB band.
While the whole conference was an exercise in connecting Science, Information, and Policy Interface for Effective Coastal and Ocean Management, some parts of the program explored these issues in a more direct way. Firstly, a one day workshop on marine and coastal citizen science, facilitated by Mark Rodrigue from Victoria's national parks agency, enabled interested practitioners to come together to exchange information about existing efforts and new developments in citizen science. Secondly, a workshop for executives provided an interactive and trusting environment within which executives could meet with leading experts (such as Professor Ed Blakely, Professor Tim Flannery, and Kate Vinot) and public sector leaders to explore challenging and contentious issues. Finally, a conference stream organised around "connecting the dots" provided researchers and practitioners with an opportunity to hear about and discuss developments in science policy relations. Dr. Brian Coffey and Kevin O'Toole, who contributed the chapter "Exploring the Role of Science in Coastal and Ocean Management: A Review" in the book, co-authored a presentation on "Exploring Strategies for Enhancing Science Impact in Coastal and Marine Contexts" with Professor Marcus Haward and Dr. Peat Leith from the University of Tasmania.
All in all, the Australian Coast to Coast conference touched on numerous issues that are explored in Science, Information, and Policy Interface for Effective Coastal and Ocean Management.
The individual book chapters are available from the publisher's website: Chapter 3
The full book is available in print and e-book formats from the publisher at this link
Author: Brian Coffey