In April 2017, the Bay of Fundy Ecosystem Partnership (BoFEP), a partner organization of the Environmental Information: Use and Influence (EIUI) Research Program, released the Proceedings of its last biennial science workshop that was held in Fredericton, New Brunswick on 9-11 June 2016. The Proceedings, entitled Fundy in Flux: Challenges for Science, Policy and Society, were edited by M. Janowicz et al. Two of the editors (Sarah Chamberlain and Peter Wells) are members of the EIUI research program; both played an active role in the organization and conduct of the workshop. Sarah Chamberlain also chaired a session, and other EIUI members acted as rapporteurs.
Six presentations given by EIUI members are published in the Proceedings:
Reflections on Drs. Michael (Mick) Burt and Mike Brylinsky (P. G. Wells) (p. 8);
Towards a National Network for Ocean Observation (L. T. Wilson & A. Sherin) (p. 15-17);
Communication in Tidal Power Networks Operating in the Bay of Fundy: The Important Role of Bridger Organizations (L. T. Wilson) (p. 25-26);
Diluted Bitumen Spills in the Bay of Fundy: an Update on the Scientific and Technological Challenges (P. G. Wells and I. Stewart) (p. 34);
Determining the Overall Use and Influence of a Long-Term Marine Environmental Monitoring Program; A Case Study on Gulfwatch in Nova Scotia (S. Chamberlain) (p. 41-42);
Enablers and Barriers at the Science-Policy Interface: Case Studies on Scientific Information Use in Environmental Decision-Making (S. S. Soomai, S. Chamberlain, B. H. MacDonald, J. D. Ross, P. G. Wells,  L. T. Wilson) (p. 46).
The next BoFEP Bay of Fundy Science workshop will be held in Truro, NS, May 2018. Participation in the BoFEP workshops illustrates both the ongoing EIUI research associated with the Bay of Fundy and the importance of the partnership linkage with BoFEP to the overall goals of both groups.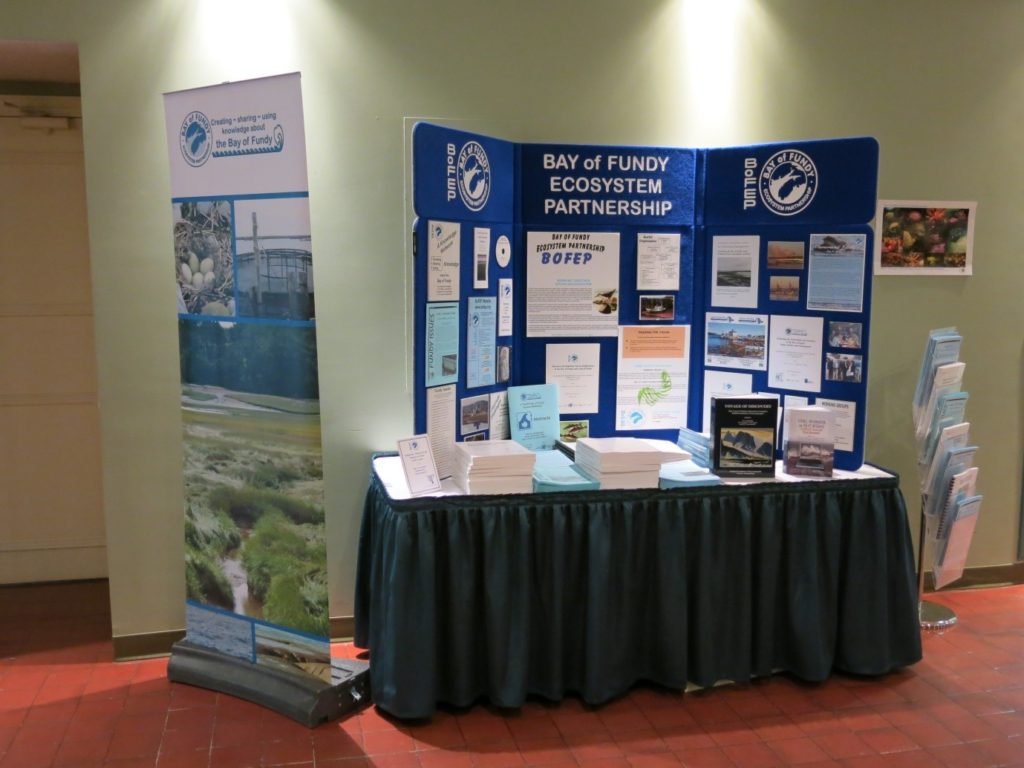 Reference
Janowicz, M., Chang, B., Chamberlain, S., Rolston, S. J., & Wells, P. G. (Eds.). (2017). Fundy in flux: Challenges for science, policy, and society. Proceedings of the 11th BoFEP Bay of Fundy Science Workshop, Fredericton, New Brunswick, 9-11 June 2016. Bay of Fundy Ecosystem Partnership Technical Report No. 10. Tantallon, NS: Bay of Fundy Ecosystem Partnership.
Author: Peter G. Wells