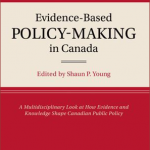 If you are a scientist, policy-maker, or somewhere in-between, Evidence-Based Policy-Making in Canada is a must-read. As editor Shaun P. Young observes in his introduction, publications discussing evidence-based policy-making (EBPM) generally focus on single policy fields and view policy issues from a single rather than a holistic perspective. This book "represents a humble, initial effort to respond to that deficiency" (p. 12), and does so using the Canadian context of policy-making as its focus. Drawing from several fields of study and approaching EBPM as a starting point, this book lays out a framework for the challenges of implementing and realizing EBPM and offers insights for future directions of research as well as capturing the political and social context in which policy is made in Canada. The Canada-specific focus should not deter international readers from reading this book, however. Evidence-Based Policy-Making in Canada can be viewed as a zoomed-in view of policy making in a nation, rather than the compilation of generalized theory that other works may present. The case studies in this volume provide tangible outlines of policy-making that could easily be applied in other contexts.
The book is logically organized. Theoretical approaches to the study of EBPM are explored, including a map of the flow of information from research to policy, naming all of the actors, and discussing some of the challenges in incorporating evidence into policy. The theory gives way to field-specific case-studies in which on-the-ground use of evidence in policies is explored in multiple policy-fields. These studies address the fact that simply generating "evidence" and making information available does not mean that it will a) be discovered by policy makers or b) support pre-conceived notions and opinions that are more likely to be adhered to rather than new information. Each case study and each field provides insights that can be transferable to other settings and are especially relevant to those working at the "science-policy interface" and attempting to mobilize information into effective public policy (see "Take-Away Messages by Chapter" below).

Many of the chapters focus on fields outside the environmental or natural sphere; so statistics or anecdotes about the use of evidence in policy-making in these fields may not be directly applicable to marine environmental areas of interest. However, as a conceptual foundation for the Canadian context of EBPM, the book is informative. The discussions involving healthcare or education should not be overlooked. If one is seeking consideration of environmental policy information in particular, the final chapter ("The Environment, 'Responsible Resource Development,' and Evidence-Based Policy-Making in Canada," by Mark S. Winfield) addresses EBPM in environmental and resource development policy. This book draws attention to the fact that environmental policy is not the only field that is either fraught with challenges in decision making or is a distinct failure in incorporating evidence into policy-making. The influence of such factors as election hot-topics, ideologies of political parties and their influence over government policies, and funding for research-initiatives in evidence-weak fields in developing evidence-based policy are described though illustrative case-studies. The findings will be applicable to EBPM studies generally and to countries that encounter difficulties with applying EBPM.
The tone of the book is often partisan, particularly in criticism of the current Canadian federal government for decisions since its election in 2011. Whether this view is because the government has a history of seemingly ignoring evidence due to its embedded ideology or whether the authors are guided by other political perspectives is unclear. However, the political undertone of the book can be ignored for the purpose of extracting useful information from the chapters about policy-making with regard to both the presence and absence of relevant and appropriate evidence.
One shortcoming of the book is the absence of discussion about policy-making in the face of uncertainty. Few references are made to the fact that it can be extremely difficult to make informed policy decisions in situations where the evidence does not line up neatly in support of one obvious choice. The challenge of management or policy-making in the face of great uncertainty is neglected. Often, policy needs to move forward and be developed so as to be adaptable to new evidence, which may support a different course of action. A conversation on the difficulty of making decisions of this nature in practice should be a part of any collection of EBPM literature. Perhaps declaring the lack of discussion about uncertainty a "shortcoming" is unfair, though, as it can be considered "an avenue for discussion in future works," building upon the foundation laid in this volume.
Take-Away Messages by Chapter
1. "Policy Advisory Systems and Evidence-Based Policy: The Location and Content of Evidentiary Policy Advice," by Michael Howlett and Jonathan Craft.
A section of this chapter, entitled "The Canadian Situation," draws attention to the fact that Canadian policy making is often very reactive in nature. Suggesting that the lack of capacity for policy analysis in Canadian governments may be responsible for this situation, Howlett and Craft state that Canada, in general, does not have an appropriate government arrangement for EBPM.
2. "The Relationship between Knowledge Mobilization and Research Use," by Ben Levin.
Levin discusses the role of intermediaries in knowledge mobilization (KMb). A key message from this chapter is that simply making information available does not mean that it will be used and that many researchers do not have the tools or the motivation to attempt to increase KMb of their research outputs.
3. "Research-Brokering Organizations across Canada: A Response to Evidence-Based Policy-Making and Practice Initiatives," by Amanda Cooper.
Cooper describes in detail the roles that different Research Brokering Organizations (RBOs) can play in mobilizing knowledge into policy. Considerations and advice for improving evidence use in policy development are articulated for all the players in the research-to-policy chain (including researchers, research funding organizations, and policy practitioners). The overall message is that RBOs can be instrumental in KMb.
4. "When the Evidence Doesn't Matter: Evidence-Based Policy-Making in Early Childhood Education and Care in Canada," by Linda White and Susan Prentice.
EBPM implies rationality. Rational choices are not always easy to make, however, especially when emotional or culturally embedded ideals are not supported by the evidence. In this chapter on early childhood education, the "selective uptake" (p. 112) of information in such emotionally-charged areas of policy is an illuminating example of the challenges of translating the best evidence into best practices.
5. "Implementing Evidence-Based Policy to Deal with Crime in Canada," by Irvin Waller.
This case study on crime policy in Canada is an excellent example of preventative strategies being more cost-effective and successful than reactive strategies. However, the evidence for prevention versus reaction is largely ignored and crime policy continues on a business-as-usual trajectory in Canada. This study is another example of when "evidence doesn't matter," similar to Chapter 4.
6. "Fighting Poverty Provincial Style," by Rachel Laforest.
Poverty reduction strategies have become more mainstream in the political landscape of late. Laforest describes two recent strategies employed by the provinces of Ontario and Quebec and the role of advocacy groups and evidence in developing these strategies. Reading Chapter 1 before this chapter would be beneficial. Laforest outlines the process of policy development using two different methods (top-down evidence-heavy versus bottom up grassroots and community mobilization), but does not indicate the success of either initiative.
7. "Bringing Evidence to Tax Expenditure Design: Lessons from Canada's Innovation Policy Review, 2006-12," by Lisa Philipps.
In this chapter, discussion about tax expenditures and recent tax reform in Canada draws attention to economic aspects of policy making. This chapter also demonstrates that economic efficiency or true cost-effectiveness can be as much a motivator for change in policy as research findings or social values.
8. "The Environment, 'Responsible Resource Development,' and Evidence-Based Policy-Making in Canada," by Mark Winfield.
This chapter provides an illustrative case study on the dismantling of evidence-based environmental policy in Canada carried out in the name of economic development. While economic development is important to the well-being of the country, restricting the generation and incorporation of evidence in policy making leaves Canada vulnerable to now unforeseeable events and ill prepared to deal with any eventualities because of the lack of useful and instructive evidence.
Author: Sarah Chamberlain