In collaboration with our research partner, the Northwest Atlantic Fisheries Organization (NAFO), the EIUI co-hosted the annual meeting of the international Advisory Board of the Aquatic Sciences and Fisheries Abstracts (ASFA) held in Halifax on 5-9 October, 2015.
ASFA is an international cooperative information system for the collection and dissemination of information cover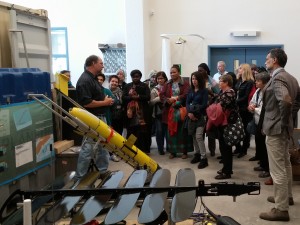 ing the science, technology, and management of aquatic environments. ASFA also comprises an abstracting and indexing service. This information system is produced as a cooperative effort by an international network of ASFA Partners which include: four United Nations organizations acting as co-sponsoring partners; approximately 60 national and international organizations that review and index aquatic literature for their respective regions; and the commercial publisher, Proquest. NAFO is an ASFA partner and provides input to the ASFA database. The Food and Agriculture Organization of the United Nations (FAO) – also partnering in research with EIUI – provides the Secretariat for the ASFA Partnership.
The ASFA Board Members attending the international meeting in Halifax included information specialists and data managers from the partnering organizations. During the week, the EIUI research team was involved in several activities with the Board members. In addition, the ASFA Board Members were greeted by representatives of the senior administration of Dalhousie University.
Suzuette Soomai, PhD Candidate and a member of the EIUI research program, presented an overview of the work of the EIUI. She also spoke about her recent doctoral research which identified the drivers, enablers, and barriers to production, dissemination, and use of fisheries scientific information produced by FAO, NAFO, and the Canada Department of Fisheries (DFO).
Lee Wilson, Rese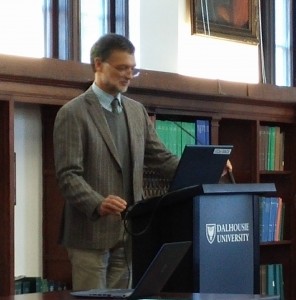 archer with the EIUI program, coordinated a field tour for the ASFA Board Members to the Ocean Tracking Network and the Marine Environmental Observation Prediction and Response Network (MEOPAR) project offices based at Dalhousie University. The Ocean Tracking Network is an ocean research and technology development platform that monitors marine animals and oceanographic conditions through the use of acoustic receivers and oceanographic monitoring equipment. Established in 2012, MEOPAR is a Network of Centres of Excellence and is comprised of Canadian researchers addressing critical issues related to human activity in the marine environment.
The EIUI also invited Mr. Marc Taconet, Chief of the Statistics and Information Branch of the Fisheries and Aquaculture Department of FAO and an ASFA Board Member, to participate in the Dalhousie University Information Management Public Lectures series on 8 October 2015. Details of Mr. Taconet's lecture, "iMarine in Support of FAO's Blue Growth Initiative: The Information Requirements," are provided at this link.