Collaboration, communication, and creativity – the 2017 Sustainable Oceans Conference encouraged participants to consider these three perspectives when addressing today's coastal and ocean management challenges. This conference, held in Halifax on 22-23 September 2017, provided six members of the EIUI research program with an opportunity to report about current and ongoing research initiatives. Now in its sixth year, the annual sustainable oceans conferences are organized by the Master of Marine Management students at Dalhousie University to focus attention on how the oceans are effected by human actions, and how human actions affect the oceans. The theme this year – "Seeing Blue: Envisioning our Future Oceans" – challenged attendees to think critically about the future health of coastal and marine environments and communities. The EIUI team members participated in the sessions on collaboration and communication.
Suzuette Soomai, EIUI Postdoctoral Fellow, was the theme speaker on collaboration. In her talk, "Collaboration at the science-policy interface: The importance of understanding the role of information in fisheries decision-making," Suzuette highlighted principle insights from her doctoral and post-doctoral research. She described examples of collaboration among multiple groups in the production, communication, and use of information in policy and decision-making in fisheries management organizations – the Canada Department of Fisheries and Ocean (DFO), the Northwest Atlantic Fisheries Organization (NAFO), and the Food and Agriculture Organization of the United Nations (FAO). Apart from government scientists and managers, other groups such as the fishing industry, NGOs, civil society, and academic institutions play notable roles in the production and dissemination of information. A collaborative science-policy interface model is needed, particularly for the implementation of ecosystem approaches to management, where the participation of a diversity of stakeholder groups and the inclusion of different forms of knowledge are relevant in decision-making.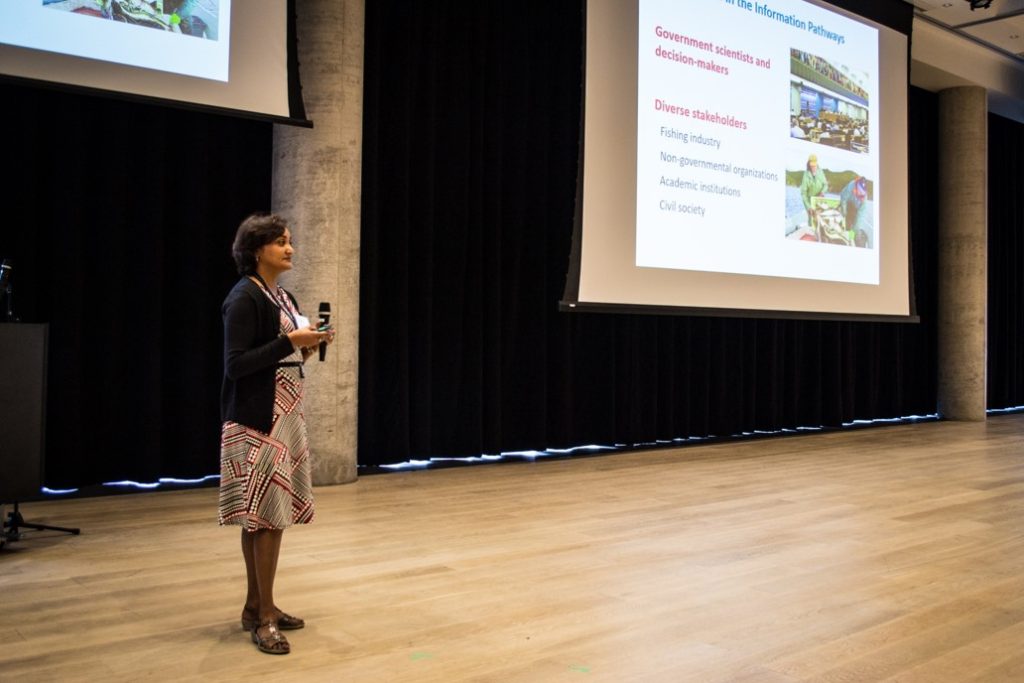 In the session on communication, Diana Castillo, a student in the Master of Library and Information Studies program, spoke about her research, "Changing tides of information access: A case study of the use of the international Aquatic Sciences and Fisheries Abstracts database." This database, is an international resource on the science, technology, and management of aquatic environments, and related economic, social, and legal subjects. Operating as a partnership of over 60 agencies, the Aquatic Science and Fisheries Abstracts (ASFA) is overseen by FAO and aims to facilitate global sharing of information, particularly of grey literature. Accessible by subscription, ASFA currently contains more than two million records. Partially due to a rapidly changing information landscape and questions about who is using it, the future of ASFA in its present format is being assessed. Diana presented preliminary findings from her study which will consider the possible impact(s) should ASFA cease to operate in its current form. The research is being conducted through surveys and interviews with the assistance of the ASFA Advisory Board, FAO, and ProQuest, the vendor which provides access to the database globally.
Three posters were displayed in the collaboration and communication sessions by EIUI research team members. Kalene Eck, a student in the Master of Marine Management program, presented an overview of her research on fisheries decision-making in Belize in a poster titled, "Evaluating the role of working groups for informed decision-making in fisheries management." Through interviews of working group members and decision-makers in the Belize Fisheries Department, this study is examining the role of three working groups in providing information for policy-making. This research on fisheries management in Belize will highlight how working groups, comprised of individuals representing several organizations with different mandates, collaborate and communicate to support decision-making.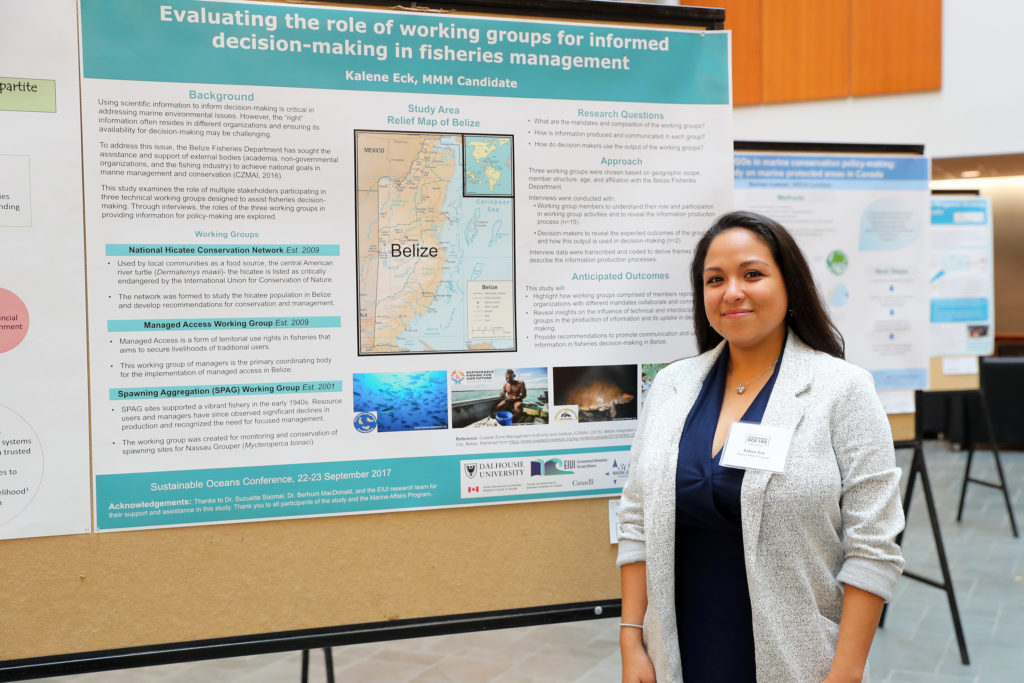 Simon Ryder-Burbidge, a student in the Master of Marine Management program, presented a poster entitled, "Towards an ocean connectivity index: Understanding public participation in Falmouth, Massachusetts." This project aims to understand how coastal residents perceive connections to marine environments and on what information they base their understanding. Simon outlined how he is developing an ocean connectivity index based on available datasets from US government departments to compare a science-based measure of ocean connectivity with public perceptions in Falmouth. The data collection for this project was undertaken while Simon completed an internship with the Marine Policy Center at Woods Hole Oceanographic Institution in Woods Hole, Massachusetts.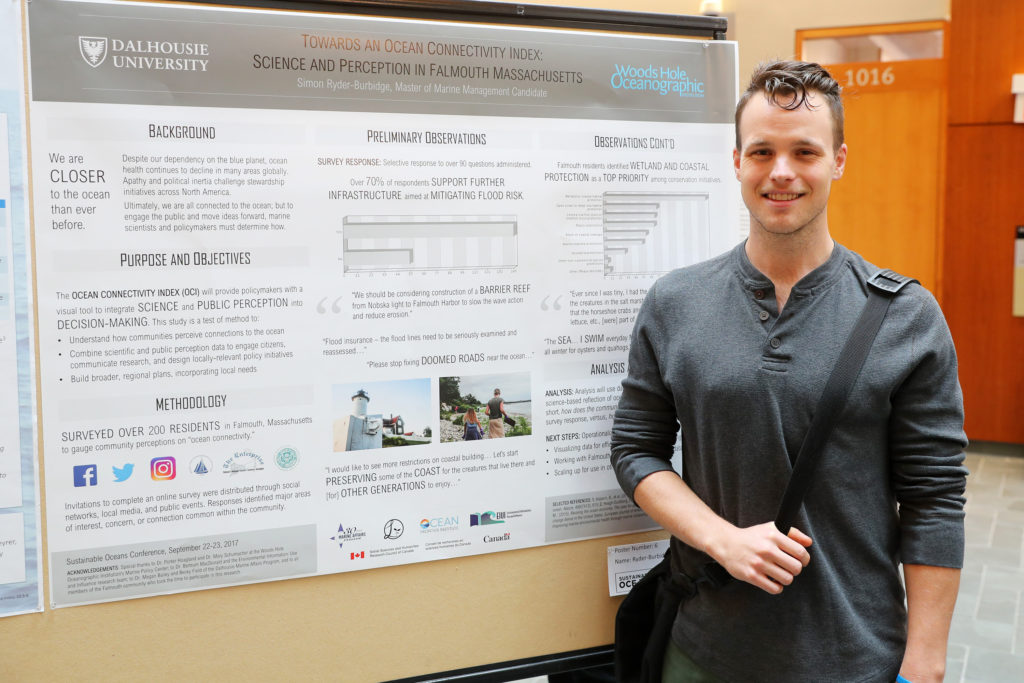 Rachael Cadman, a student in the Master for Resource and Environmental Management program, presented a summary of her research in her poster, "The role of environmental non-governmental organizations in marine conservation policy-making: A case study on marine protected areas in Canada." Rachael described her study of two environmental NGOs: the World Wildlife Fund Canada and the Ecology Action Centre. This project focuses on the efforts of WWF and EAC to support the design and designation of three current Canadian MPAs that will be completed by the end of December 2017: the Laurentian Channel, the Haddock Box, and the Scott Islands. This study seeks to understand how information in various formal and informal collaborations and partnerships is being used by eNGOs to achieve their objectives regarding marine conservation and management.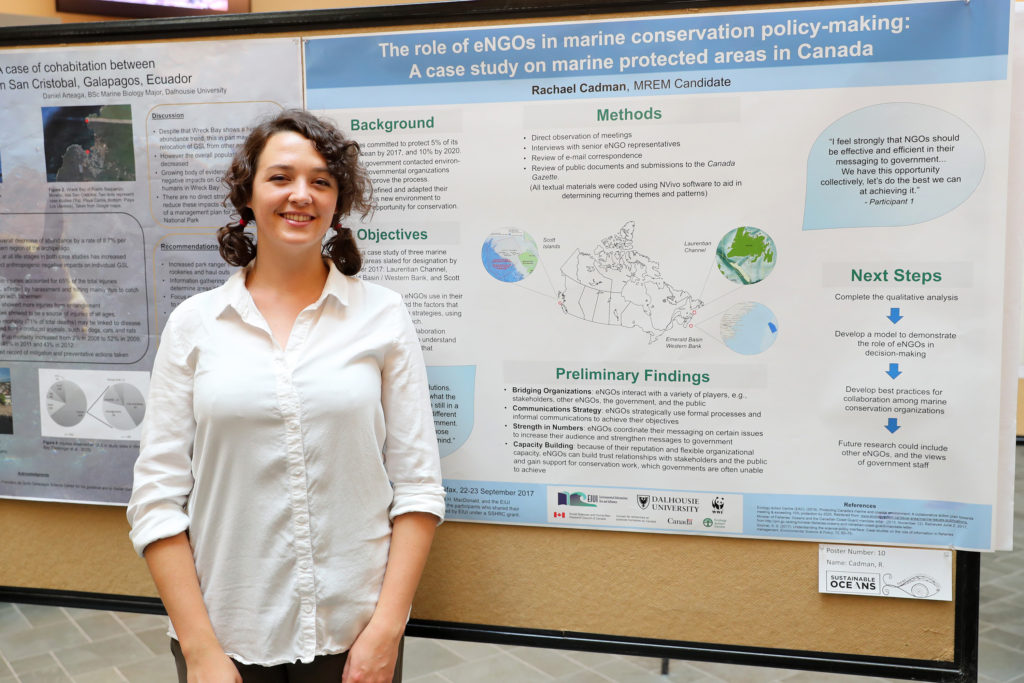 Speaking from his former position as a senior scientist in Environment Canada, Peter Wells participated in the panel and discussion on marine pollution in Nova Scotia. The panelists discussed three questions: 1) To what extent is macro and micro pollution a problem in Nova Scotia/Atlantic Canada and particularly in the Halifax Harbour? 2) What are some of the new and emerging policies and initiatives to address marine macro and micro plastic pollution? and 3) What is their vision for the Halifax Harbour and Nova Scotia, and what can we do to realize this vision?  A lively discussion followed the panelists' remarks and the audience was encouraged to identify tangible actions for reducing marine pollution.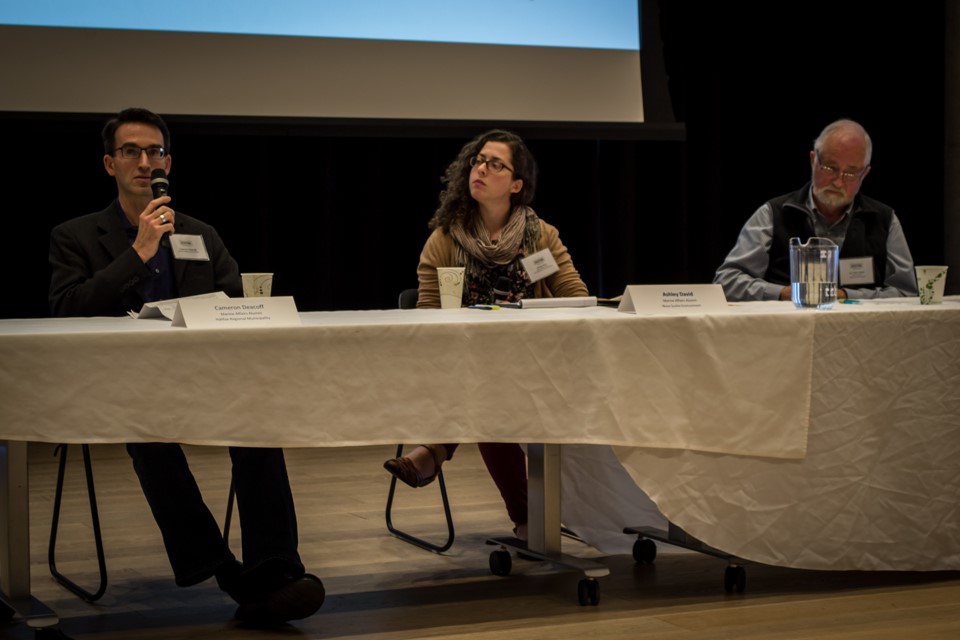 Further details of the research being conducted by the Masters students and postdoctoral fellow are available elsewhere in this website. Additional information about the conference including the presentation abstracts is available at the conference website.
Author: Suzuette Soomai
Photo credits: Nick Pearce (Photography Services, Dalhousie University) and Mikaila Bickford (Marine Affairs Program)